High Pressure Water Jet Cleaning Machine And Pump
We are specialized in Designing, Manufacturing, Marketing and Servicing of High Pressure Pump for various applications in all industrial segments.
The Pumps are designed and manufactured indigenously under strict quality control and also supported by a prompt after sales services. The Pump units are complete with Prime Mover (Electric Motor / Diesel or Gas Engine), Speed Reduces (Pulley drive / Gear Box), Control Panel, Standard accessories like relief valve, pressure gauge and regulating valves. Mountings either on Base plate Oil field Skid, or Trailers depending on customer requirements.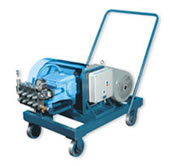 Water Jetting And Hydrotest Pumps
High pressure water jetting or water blasting technology has been used for multiple industrial applications around the world, and is recognized for its capability to provide powerful, environmentally safe ways of solving difficult cleaning, cutting and surface preparation problems. We manufactures pumps for specifically for these applications and has a different models with power up to 500 HP, Discharge flow up to 1000 LPM & pressure up to 2000 Bar.
Suction Hose:
Are available for all discharge capacities in standard lengths. They are either nylon type or wire braided type.
Delivery Hose:
Available in standard lengths with hydraulic high pressure BSP connections for working pressures from 2,000 PSI to 20,000 PSI.
Flexible Lance
For tube cleaning application, of pressures upto 12,000 PSI in standard lengths of 7Mtrs, 10Mtrs and sizes of 1/8",1/4", 3/8" are available.
Rigid Lance
It is used for external
standard lengths from 1mtr to 6mtrs in steps of 0.5 mtrs.
Nozzles
Variety of nozzles for different applications upto 12,000 PSI are available as follows:
Straight Nozzle: For surface cle
Fan Jet Nozzle: For surface cleaning where layer is soft and to rapidly
clean large areas. The jets usually have an angle from 300 to 600.
Forward with Centre Jet Nozzle: For effective pipe cleaning, where 2 or more orifice are at a forward angle to one orifice at the centre.
Backward with Centre Jet Nozzle: For effective cleaning of chocked tubes. If used along with flexible lance acts as a self propelling nozzle.
High Pressure Gun
Manually Controlled by use of trigger, used for surface cleaning along with either straight or fan jet type of nozzles.
High Pressure Foot Valve
Manually controlled by foot and is used where continuous cleaning at pressures is to be carried out.
Hose Reel
Used for easy and systematic storing of long hoses.
Nozzle carrier
Tailor made nozzle carriers for descaling systems in Iron and Steel industry, Crate cleaning system etc.
Wet Blasting Attachment
Abrasives along with high pressure water jet passed through this attachment is used for removal of paint and very hard layer of corrosion.
Surface / Gate cleaners
Officiant surface/gate cleaning in paint booths by rotating jets.
Rotojet
Nozzle rotary attachment for tank cleaning.
Automobile Industry
Cement Industry
Chemical Industry
Ship Building
Municipal Services
Oil & Gas Refinery
Offshore Exploration
Pulp & Paper Industry
Food & Beverage Industry
Iron & Steel Industry
Power & Mining Industry