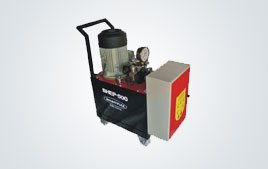 HYDRAULIC PUMP BHEP – 500
Features:
Silent during use. In comparison electric and pneumatic tube expansion systems are noisy.
Drive communicates with the pump via 9v DC remote control. This ensures safety & eliminates the need of electrical
Compact, therefore easy to use inside boiler drums.
Compatibility- Same power pack for all 4 drives to expand 5/8" OD to 4" OD tube.
Very high Torque developed- can expand large diameter, thick wall tubes in thick tube sheets easily.
Long life + low maintenance.
Boiler erections get completed in record time.
Can be use for long working hours because drive is unaffected by heat.
Dual drive power pack is available to connect 2 drives to single power pack to cut down tube expansion time by further 50%.
Microprocessor controls on the pump automate the expansion cycle. Trip, pause & reverse times for the drive are adjustable. No need for repeated manual STOP/ START of the drive during expansion cycle- Complete automatic.
The hydraulic pump supplied with hydraulic drive incorporates the latest state of the technology resulting in a subcompact pump developing 100 bar pressure. The system is mounted on four wheels for on site manevourability. Expansion of tubes is regulated by adjusting pressure setting pump. Once required amount of wall thinning is achieved the drive trips automatically.
Hydraulic Drives

Tube Expansion Range
DRIVE
Drive No Load Speed (RPM)
Drive
Weight
Kgs.
Steel Tube O.D.
Copper Tube I.D.
Model No.
Square Socket
Inch
With BHEP-300/500/1000
Mm
Inch
Mm
Inch
15-25
5/8-1
25-38
1-1.1/2
BHED-3
3/8
620/954/800
9.6
19-38
3/4-1.1/2
32-64
1.1/4-2.5
BHED-4
3/8 & 1 /2
350/480/400
9.7
38-76
1.1/2-3
50-102
2-4
BHED-5
1 /2 & 3/4
62/84/70
11.0
50-102
2-4
–
–
BHED-6
3/4 & 1
40/62/54
11.5
ACCESSORIES FOR EXPANSION SYSTEM
HYDRAULIC HOSE
Model No.
Hydraulic Hose
(Qty x Size x Length) (Mtrs.)
BHE/HS/1210/2
BHE/HS/5815/2
BHE/HS/5820/2
BHE/HS/1210/4
BHE/HS/5815/4
BHE/HS/5820/4
2 x 1 /2 x 10
2 x 5/8 x 15
2 x 5/8 x 20
4 x 1 /2 x 10
4 x 5/8 x 15
4 x 5/8 x 20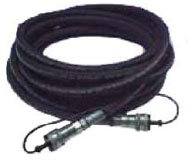 SUPPLY CABLE
Model No.
Supply Cable Length (Mtrs.)

BHE/SC/15
BHE/SC/20
BHE/SC/25

15
20
25

HYDRAULIC DRIVE SOCKET
Model No.
Square ( Size )

BHE/DS/38
BHE/DS/12
BHE/DS/34
BHE/DS/1

3/8
1 /2
3/4
1