Torque Controlled Tube Expansion System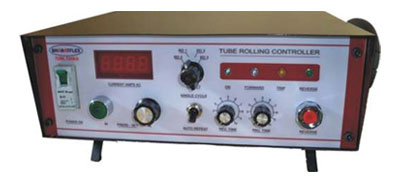 BHARTIYA Make Electric Tube Expansion System is operated by Control Panel (Electric). This tube expansion system is used mostly for tube expansion of condenser tube expanders, heat exchanger tube expanders.
The control panel unit controls automatically after reaching the required Torque, Tube Expander retracts out from the tube after pressing the reverse Button. This automatic system ensure tube are rolled to maximum tightness without excessive stress of work in Tube metal hence preventing damage at Tube ends or distorting Ligaments of Tube sheet.
Current based electric tube expansion system is suitable for tube rolling of tube OD ¼" (6.4mm) to 4" (100.4mm).
Note : Highly Advanced – Micro processor based Torque Control Unit – is also avaibalbe – quote on request.
Electric Torque Controller / Wattage Based
Latest Micro-Controller Chip Installed for controlling the functions of Unit & single circuit board for easy maintenance.
The LED on Torque Controller helps to indicate the connection of drive automatically.
To produce indentical results it is accurately calibrated digital torgue setting with resolution of 1 watt which makes torque setting accurate.
For long life of the system soft start is provided for all drive reducing starting curren in the drive.
Four different torque setting suitable for four different drives.
To avoid absued or overused appropriate wattage range is automatically selected for connected drive.
On pressing button on LED actual drive wattage(torque),Set Wattage(torque), drive current & voltage line is displayed on LED.
The system is adjustable for Reverse time from(1sec – 100 sec), Trip time (0.1 – 10 sec), Pause time(interval time between cycles), Adjustable from(01 sec – 100 sec) In emergency case push buttom manual reverse push button can be used.
Two mode is been used Foot Switch & Hand (trigger) also speed of the drive is adjusted with help reverse rotation.
Two mode can be used for Expansion either in Single Mode or Auto repeat Mode.
The Drives are well protected over current by short circuits with help of MCB.
At the time of trouble shooting Plug in type PCB's are used which reduce down time.
Forward, Reverse & Trip indication are provided on LED Indicators.
The system is designed with High Quality SCT Technology, which have better voltage, current & dv/dt ratings that triacs. This benefit to the power circuit & reliability it becomes failsafe.
Only one Instrument can be used for replacements of spares inside the panel such as PCB's, Transformers, CT, and Relays DPM etc.
The system can be compatible with PC / Printer also.
| | | |
| --- | --- | --- |
| Model No. | VoltageSingle Phase 50/60 Hz | Weight (Kg) |
| BTC – 230 | 230 | 11.0 |
| BTC – 110 | 110 | 11.0 |
Note: Voltage Stabilizers for use with BTC Torque Controllers All BTC Torque Controllers are supplied with operation manuals
Electrically Operated Drive Units
Features:
It consists of heavy duty motors.
Continuous cycle operation vs. Intermittent cycle operation of drives from other manufactures.
High torque to weight ratio.
Spare parts are easily available worldwide.
Voltage Stabilizer / Transformers
Features:
Digital display of output voltage.
Used in on site application and areas which has high voltage fluctuations.
Electric Tube Expansion Accessories
Telescopic Shaft
Quick Change Chucks And Adaptors
Torque Multiplication Gear Boxes
Movable Trolley
Drive Model
No Load Speed R.P.M.
Expansion Range
Full Load Current AMPS
Full Load Torque KGM
Drive Weight Kgs.
230V
110V
S.STEEL TUBE O.D. M.M
COPPER TUBE O.D. M.M.
230V
110V
BM-0
BM-1
BM-0L
BM-1L
700
550
6 to 12
10 to 16
8 to 16
13 to 22
1.3
3.4
2.6
6.8
0.36
0.46
2.8
4.1
BM-2
BM-2TS
BM-3
BM-2L
BM-2TSL
BM-3L
560
1380/560
380
16 to 28
16 to 28
25 to 45
19 to 34
19 to 34
38 to 65
4.0
2.75
6.0
8.0
5.5
12.0
1.26
2.2 / 3.0
3.0
7.7
5.4
11.3
BM-2M5
BM-3M5
BM-2LM5
BM-3LM5
112
56
25 to 50
25 to 57
38 to 70
38 to100
4.0
6.0
8.0
12.0
3.8
12.0
10.0
16.0
BM-2M25
BM-3M25
BM-2LM25
BM-3LM25
21
11
38 to 63
50 to 104
–
–
4.0
6.0
8.0
12.0
31.5
48.0
15.0
19.0