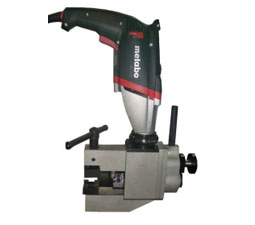 This machine is designed for pipe end beveling of small diameter, pipe out mounted compact installation. It is used in pipe end bevelling process of professional equipments & on-site overhaul, e.g. Water cooled wall, overheater, reheater, fuel economizer, boiler & fire thermo electricity, etc.

High Quality bevelling tool which can process different grades of carbon steels, alloyed steels, stainless steels & other materials of metal pipes. An outside caliper is fixed in proper position, simple and light, precise centering, steady mount and convenient operation.

Driving Type: Electric: 1 phase, 230volts, 50-60 Hz, Power 1.4 KW

Pneumatic: It uses pneumatic drive of 5 to 7 bar air pressure with air flow of 53-70 CFM.
| | | | | |
| --- | --- | --- | --- | --- |
| ELECTRIC DRIVE | PNEUMATIC DRIVE | WORKING RANGE | WALL THICKNESS | SPEED |
| BNFC-53-II | BNFC-53P-II | Dia 8-53 | 8mm Max. | 56 RPM |
| BNFC-76-II | BNFC-76P-II | Dia. 25-76 | 12mm Max. | 48 RPM |